"
The show's clever take on the popular superhero genre has made this show a hit with Disney XD viewers.
"

— Adam Bonnett
Season 2

Production
Episodes

20

Premiere Episode
Premiere Date

October 20, 2014

Finale Episode
Finale Date

September 9, 2015

Chronology
Previous
Next

Season 1 (Lab Rats: Elite Force)
Season 2 of Mighty Med was renewed on May 22, 2014. Production on the season started in July. The season officially finished filming on February 2, 2015 according to Bradley Steven Perry on Instagram.[1]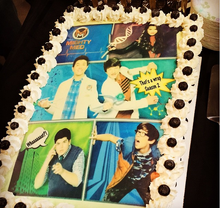 Premise
The Annihilator has turned Skylar Storm into his evil servant and seeks to do the same with all other superheroes. It's a race against The Annihilator in order to prevent other superheroes from turning into his pawns. With most superheroes having been turned evil and not knowing who to trust, it's up to Kaz and Oliver to find a way to stop the Annihilator and the evil-version of Skylar Storm from destroying the world. (How the Mighty Med Have Fallen to Storm's End)
Although both The Annihilator and Skylar Storm were defeated, new threats come from everywhere between two Normos named Chaz and Gulliver who are actually villians with powers trying to trick Horace into resurrecting the villian Dr. Wrath to a new villian named Mr. Terror looms on the horizon, who turns out to be Oliver's mother. Mr. Terror is seeking the legendary Arcturion, which will give her ultimate powers and make her the most powerful being on the planet.
Cast
Main Cast
Recurring
Antagonists
Episodes
Unaried E
Trivia
Augie Isaac was added to the Main Cast.
This season has 20 episodes.
There was a crossover episode with Lab Rats: Bionic Island, another Disney XD show.
There are three 1 hour episodes. [5]
The series will continue as Lab Rats: Elite Force, along with the show Lab Rats.
This is the sixth Disney XD series to end after 2 seasons, after Aaron Stone, I'm In The Band, Kick Buttowski: Suburban Daredevil, Crash & Bernstein and Randy Cunningham: 9th Grade Ninja. However, it's the first Disney XD series (along with Lab Rats) to get a spin-off.
Bridget/Mr. Terror may return in Lab Rats: Elite Force, as she was seeing flying into the Philadelphia skyline and her plot line remained unfinished. However, Bridget got captured before Kaz and Oliver contacted Davenport in the spinoff.
Just like Season 1, Season 2 also ended with a cliffhanger (which was later resolved).
After The Mother of All Villains, in the small promo for Lab Rats: Elite Force, an announcer says that the trio's adventure isn't over yet, confirming the spinoff.
References
Community content is available under
CC-BY-SA
unless otherwise noted.